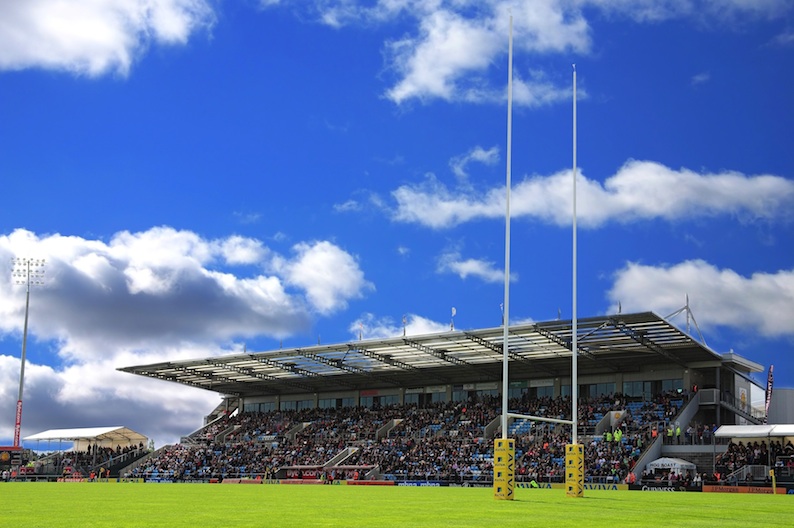 SOLD OUT Writing, Journalism & Match Day Reporting - Exeter Chiefs - Weds 24th Jan & Sat 3rd Feb 201
£ 45.00
Sold out
Come and spend a day at the Exeter Chiefs to learn how to write like a journalist. Watch the Chiefs v Saracens game (with an adult) and write a report on the match.

Years 5 and 6
Dates: Wednesday 24th January 2018 (10-4pm) and Match Day Saturday 3rd February 2018 Exeter Chiefs v Saracens 3pm (One child and one adult ticket)
Venue: Sandy Park, Exeter Chiefs Rugby Ground
Tutor: Mark Stevens, Head of Media, Exeter Chiefs
Payment: Online store (please complete pupil details before paying)
Schools: If you would like to pay by cheque or invoice please email us with your booking: admin@excellencesouthwest.co.uk
Do you have an interest in sport and writing about it? Are you a player or supporter? If you would like to spend a day at the Exeter Chiefs looking behind the scenes and learning how to write like a journalist then please come an join us for a day developing your writing skills and preparing to report on a live match.
If you have ever wondered what happens on match day and the temperature of the ice bath then you are about to find out. During the day you will get a tour of Sandy Park, sit in on a press conference and learn about interviewing.
Course Description
This course will focus on the following aspects of English and cover a range of National Curriculum 2014 objectives in writing for composition and vocabulary, grammar and punctuation.
Analysis of the grammatical features of a match report
Compare and contrast different writing styles from a range of newspapers
Practise different writing techniques
Practise interview skills to inform reports
Understand the function of a press conference
The first day will be spent at Exeter Chiefs rugby ground working in a conference area learning the skills of live reporting. The day will also a tour of the stadium, the players' area, rehab room, gym and media room, as well as sitting in on a live press call. The second part of the course will be attending Exeter Chiefs v Saracens and reporting on the match. Pupils will be expected to send their match report in to Mark Stevens by 3rd March to be judged. The winning report will win to Premiership Match tickets.
Course Tutor
Mark Stevens: Communications Manager, Exeter Chiefs Rugby Club. Mark has over 18 years' experience working as a reporter and has been Head of Media at Exeter Chiefs since 2007.