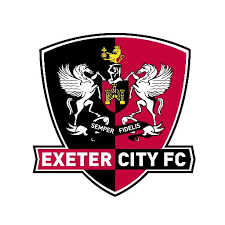 Y5 & 6 Up The City! Behind the Scenes at Exeter City Football Club - Tues 1st May & Sat 5th May 2018
£ 45.00
Come and spend a day at Exeter City Football Club to learn all about what goes on behind the scenes and how to be a football reporter. Watch the Exeter v Colchester match on Saturday 5th May 2018 and submit your match report.

Years 5 and 6
Dates:
Tuesday 1st May 2018 (10-4pm)

Saturday 5th May 2018 Exeter City vs. ColchesterTown 3pm (One child and one adult ticket)

Venue: Exeter City Football Club, St. James Park, Exeter
Tutor: Team at Exeter City Football, Sam Townsend and Alison Shorer
Cost: £45 - please see payment details below
Do you have an interest in sport and writing about it? Are you a player or supporter? If you would like to spend a day at St James Park looking behind the scenes and learning about Exeter City Football Club and how to report on an exciting Saturday match, then please come an join us for a day developing your writing skills and preparing for the Exeter v Colchetster game on Saturday 5th May. The course will include one adult and one child ticket for that day.
Course Description
This course will focus on the following aspects of English and cover a range of National Curriculum 2014 objectives in writing for composition and vocabulary, grammar and punctuation.
Analysis of the grammatical features of a match report

Compare and contrast different writing styles from a range of newspapers

Practise different writing techniques

Practise interview skills to inform reports

Understand the function of a press conference
The first day will be spent at Exeter City's ground, St James Park in the community learing centre focusing on the nature of the club and the stadium, pupils will take a tour and meet some of the staff and players fundamental to the behind the scenes work for game day and community work in the city. Ther pupils will work on their writing skills as outlined above during the remainder of the day. The second part of the course will be attending Exeter City vs, Colchester and reporting on the match and taking notes ready to submit a match report for the game. The best report will win a prize of tickets to a future game for their family.
What to Bring: On the day pupils will be need to bring a pencil case and note pad, a warm coat and comfy shoes, along with a packed lunch and plenty to drink.
Payment: Online store (please complete pupil enrolment before paying)
Schools: If you would like to pay by cheque or invoice please email us with your booking: admin@excellencesouthwest.co.uk